Appropriate cargo protection guarantees that, under normal conditions, the transport shall be carried out safely and smoothly.
It is the nature of the cargo that determines how we shall prepare the cargo for the transport:
You can transport the cargo that does not require special protection it but certainly must be properly loaded/stowed and secured/lashed in / on a trailer or container;
Many times, especially in the project logistics you need additional cargo packing is required due to the cargo sensitivity, size, value, or even the shipowner requirement;
Proper packing, loading, and lashing of the cargo are the solution for certain challenges in the global transportation:
Minimizes or almost neutralizes the forces generated during the movement of the cargo;
Protects cargo value;
Protects cargo against weather conditions and unpredictive phenomena (moisture, seawater, rain, etc.);
Protects cargo against mechanical damage (accidents, falls, incorrect handling/manipulations, carelessness of carriers and other involved participants, etc.);
Let's look at a recent packing reference of a foundry machine at a client's premises. The cargo was transported to the end customer by air.
A wooden base or pallet is made to carry the weight of the machine, which in this case is almost 2000 kg. ALU foil is placed on the base which will be later welded together with the "cap" hermetically (vacuum) closing and separating the machine from the surroundings. The machine has its own microclimate inside the foil, to which dehumidifiers (silica gel) are added. We protect all sharp and sensitive parts with bubble wrap. Sharp edges could damage the aluminum foil thus enabling the intrusion of air. The cargo is screwed into the wooden base, and two cross-shaped straps are additionally placed.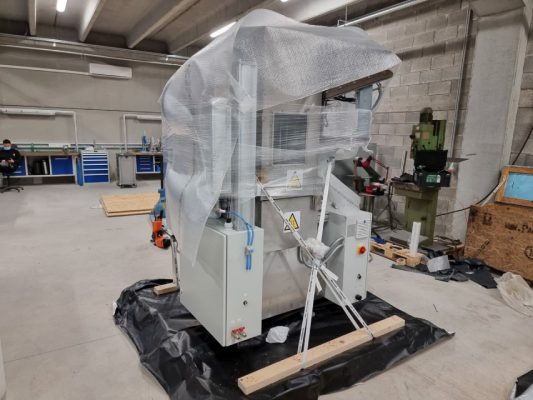 The previously mentioned "cap" is now welded to the bottom and the air is sucked out.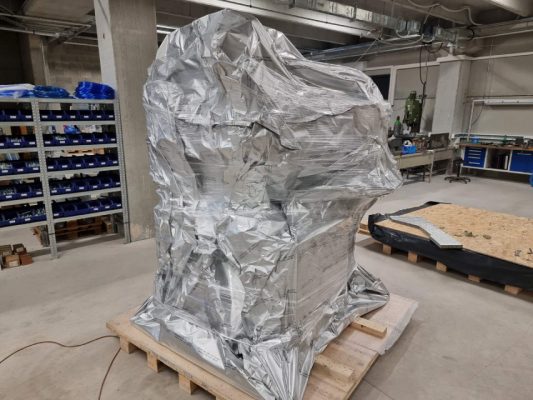 Closing the box is the next step. To fix cargo inside the box we used wooden beams on different heights to prevent cargo shifting.
In the end, we mark the transport unit (OSB box) with the necessary transport marks, which vary according to needs.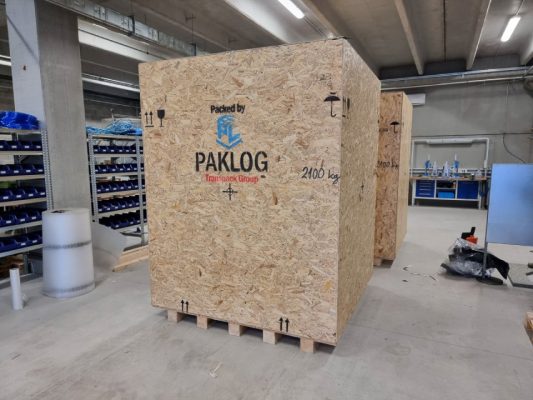 For more content about the industrial packing or other questions like "how to protect your cargo for safe transport?" etc., we kindly invite you to submit an inquiry via the contact form.